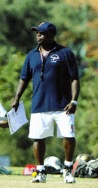 Ryland Huyghue


2016 Inductee into the US Lacrosse Hall Of Fame Greater Los Angles
2014 US Lacrosse Man of the Year.
From the age of seven, he has been a star athlete and dedicated to the sports of football and lacrosse. The first All-American lacrosse player to come out of his high school, Ryland was also the first African American from Long Island to reach first team All-American Status.  In football he also reached All-American Status.  He never came off the field playing running back, strong safety, punter, place kicker, field goal kicker, punt returner and kick off returner.  His high school team went undefeated for four straight years.  He was inducted into his High School Hall Of Fame as one of the premier athletes to come out of his school.  He went to Nassau Community Jr. College playing both football and lacrosse.  After becoming the #1 recruit in the country for lacrosse.  Huyghue turned down several football scholarships from teams such as Ohio State, Iowa State, Rutgers University and several others, choosing to play lacrosse for University of Maryland.
Since 1982, Ryland spearheaded the development of lacrosse in California. As a five-time MVP player of Orange County Lacrosse Club, Ryland's team won four state club championships and for fourteen straight years he was an all-star club lacrosse player. He was elected as the president of the California Lacrosse Association for twelve years and served as president of the Malibu Lacrosse Club for thirteen years.
Huyghue went back into coaching youth football for 14 years with both his sons.  He coached his last 3 youth years, with Rap Star, Snoop Dogg and his sons.  While coaching youth football, Huyghue was then asked to coach with the Southern California Steelers (www.scsteelers.com), a Semi Professional Football team where he is still the head coach six seasons later.  The Steelers dominated the minor league football for several years, at one point having a record of 66 wins and 8 losses. 
In 2009 Ryland was the head lacrosse coach for Cal State Fullerton, where in one season he took the team from losing every game the previous season to a much improved, above 500% season.  Ryland coached and produced five All-American lacrosse players, three of which were Academic All-Americans as well. 
Ryland made history in 2009 becoming the first African American head lacrosse coach to win a collegiate championship in the sport of lacrosse for Cal State Fullerton.  He has also coached UCLA, USC and Occidental College. Maybe Ryland's most amazing achievement was his involvement in re-instating exhibition lacrosse in the 1984 Olympics. With numerous meetings with Peter Uberoff and the Olympic Committees he helped pull off what many thought would never happen and made the Jim Thorpe Memorial Pow Wow & World Games by inviting for the first time the Native American Iroquois to there first World Lacrosse Tournament making it a huge success.
Ryland's leadership skills, winning attitude and his dedication to giving back to the community are a major asset to the International Diversity Lacrosse Council. We are also very pleased that he shares our dedication to helping kids learn a great sport that builds good health and character. All his adult life, Ryland has been a youth coach for basketball, football, and lacrosse�?�¢??, says Drew Pannell, Co-Founder and Vice President of the International Diversity Lacrosse Council.
www.diversitylacrosse.org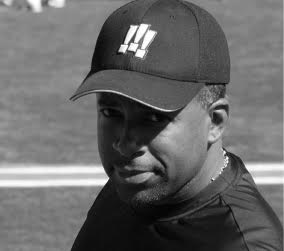 ED "GoGo" Lovelace


He was one of the fastest athletes ever to come from New York State. As the owner of Hempstead High sprint records in the 100M and 200M events, he also holds the longest standing 200M record at the New York State Loucks track meet.  Ed achieved New York State champion status in the 200M sprints. Ed earned an All-American status at Hempstead High School and ranked as one of the top ten senior sprinters in the USA. Lovelace was recruited by Division 1 Colleges.  He selected Arizona State University.  He was recruited and signed by Carl Lewis coach Clyde Duncan. Lovelace went on to compete against the nations best as a 100 and 200 meter sprinter.  He qualified for the 1988 Olympic trials and then went on to compete professionally and train with world renowned coach's Norm Tate and Dr. Leroy Walker. During his sophomore and junior years at ASU, Lovelace set school records and became an All-American in his senior year. Lovelace again qualified for the 1992 Olympic trials at 200 meters.  During the years of 1992 and 1994, Lovelace trained with Kevin Young at UCLA under the tutelage of 1972 Olympian John Smith. Upon finishing his Olympic pursuit, Lovelace recognized that no one taught speed outside of the elite world of track and field.  Lovelace came to understand the common denominator in all physical endeavors: running and moving fast. Hence, Phewsioneering! was born.  Lovelace has trained NBA stars Vince Carter, John Salley, Sebastian Telfair, and Allen Ray. In addition, NFL stars Rod Dixon, Roy Barker and MLB standout Frank Cattolanatto. Lovelace has also coached the Venezuelan National Basketball team and the Brazilian National Soccer team. He has also trained top level college lacrosse players. These world class athletes have all succeeded with the help of the Phewsioneering! system. www.phewsioneering.com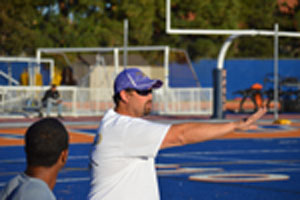 Bill Adams

Hometown: Summit, NJ
High School: Pingry School
College: Lafayette College- Division 1, Patriot League

Playing Experience:
Four Year Starting Defenseman Lafayette College- Captain
14 year player Post Collegiate Men's Team- 3-time All-Star

Coaching Experience:

College:
UCLA and LMU Defensive Coordinator

High School:
Calabasas, Westlake, Oak Park, and Crespi High School Programs Asst Head Coach/Defensive Coordinator
Hollywood Starz Coach
Developed 7 HS All-Americans

Currently, Bill is the founder and director of IMPACT Lacrosse in Santa Clarita where he runs camps in clinics introducing the game to new players. He believes in teaching the game the right way so that players learn the proper skills,develop those skills and then utilize those skills on the field. He also believes in players becoming great people and giving back to the community when they can.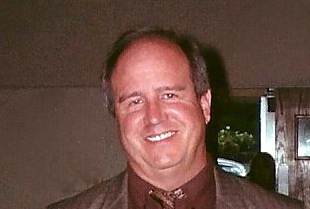 Brian LaRue
Brian brings business management experience to Team Citius Lacrosse. He has worked with Coach Ryland Huyghue for several years and currently serves on the local chapter board of US Lacrosse with him. His son's play lacrosse and has a passion and commitment to foster the growth of lacrosse and help create opportunities for players. He brings loyalty, commitment and integrity to help build a stable organization, so that players and parents can see the value they are receiving for the opportunity to play for Team Citius Lacrosse.